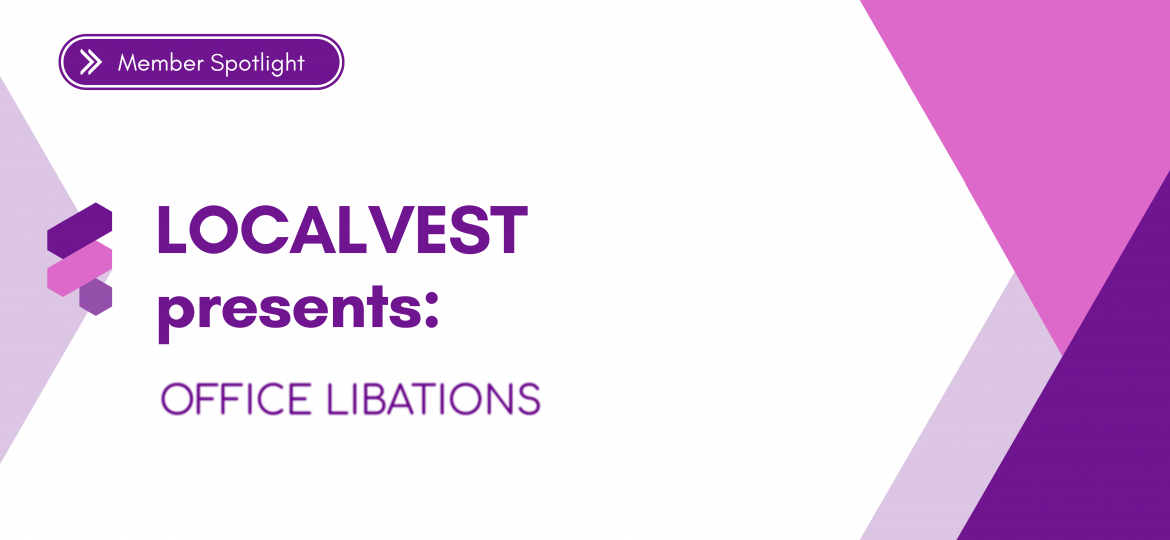 Localvest Presents Office Libations
The Localvest Platform is designed to help military veteran entrepreneurs raise capital faster. We're excited to tell you more about the businesses behind each capital raise. 
Today, we present Office Libations, a full-service beverage and snack company based in the San Francisco Bay Area that supplies offices with customized selections of snacks and beverages that both fit corporate budgets and keep employees happy. 
who founded office libations?
Claude Burns founded Office Libations in 2015 after a market pull snowballed into a big business idea.
Before his days as CEO of Office Libations, Claude ran a beer company in the subscription e-commerce space. Large corporate offices and tech companies proved excellent customers and quickly became one of his fastest growing markets. When corporate customers started craving more variety, Claude delivered by supplying them with a selection of wine and developing a selection of other kegged beverages including kombucha and cold brew coffee.
Customers were hungry for more. When they started asking Claude if his company would develop and deliver their office snack programs in addition to beverages, he saw an opportunity. Claude expanded his beer-centric brand, launched Office Libations, and the company quickly grew to become the successful, high-end supplier of quality corporate refreshments it is today.
Claude graduated from the U.S. Naval Academy in 2006 and served as a communications, information and public affairs officer for six years before starting his entrepreneurial journey. A self-described foodie at heart, Claude loves supporting other businesses on their journey to success by sourcing and supplying the fuel they need to keep going.
What does Office Libations do?
Office Libations is a full-service beverage and snack company based in the San Francisco Bay Area. They work with large companies like LinkedIn, NerdWallet and GoDaddy and small Series B startups to handle everything from supplying offices with coffee, tea and snacks to kombucha, wine, and beer. Office Libations customizes snack and beverage selections for each office, ensuring they fit within corporate budgets and keep employees happy.

The company's comprehensive software suite also sets them apart from other food and beverage suppliers. Machine learning lightens the load of Office Managers by tracking office snack consumption, automating the process, and dynamically adjusting deliveries to reduce stock-outs, identify preferences, and much more!
To top it all off, Office Libations puts sustainability at the heart of everything they do. Each Office Libations keg is infinitely reusable, replacing about 100 plastic bottles, cans, or pods with each refill. Pioneering electric coffee roasting methods they use also serve to eliminate harmful particulates and VOCs. Additionally, Claude and his team work hard to ensure they're supporting and serving local businesses, which reduces shipping and transportation-related emissions.
How is Office Libations growing?
Office Libations is on the precipice of a huge growth spurt. The impacts of the Covid-19 pandemic caused three of their primary competitors to exit the market, opening up a huge opportunity to acquire more customers. The majority of Office Libations' customers did not use the company's full range of services because many were under contract with these competitors. Expanding the level of service they provide to existing customers while welcoming new customers requiring a full-service refreshment supplier are two important goals for the coming months.
Beyond responding to the impacts of the Covid-19 pandemic, Claude is focused on building a cohesive team of individuals that can lead the company forward. He recognizes that a company is larger than its CEO and should be able to operate independently. Drawing on skills and experiences from his military background, Claude is building a healthy chain of command at Office Libations where everyone works together in order to build an even stronger business. Cheers to that!
Connect with Office Libations 
Are you interested in learning more about Office Libations? Connect with Claude Burns on LinkedIn! Office Libations is a high-growth, profitable, capital-efficient B2B services provider and two-time INC 500 award winner that is providing refreshments to some of the fastest-growing tech companies in the SF Bay Area as well as Fortune 500 clients.
Are you interested in learning more about how we can help you succeed?