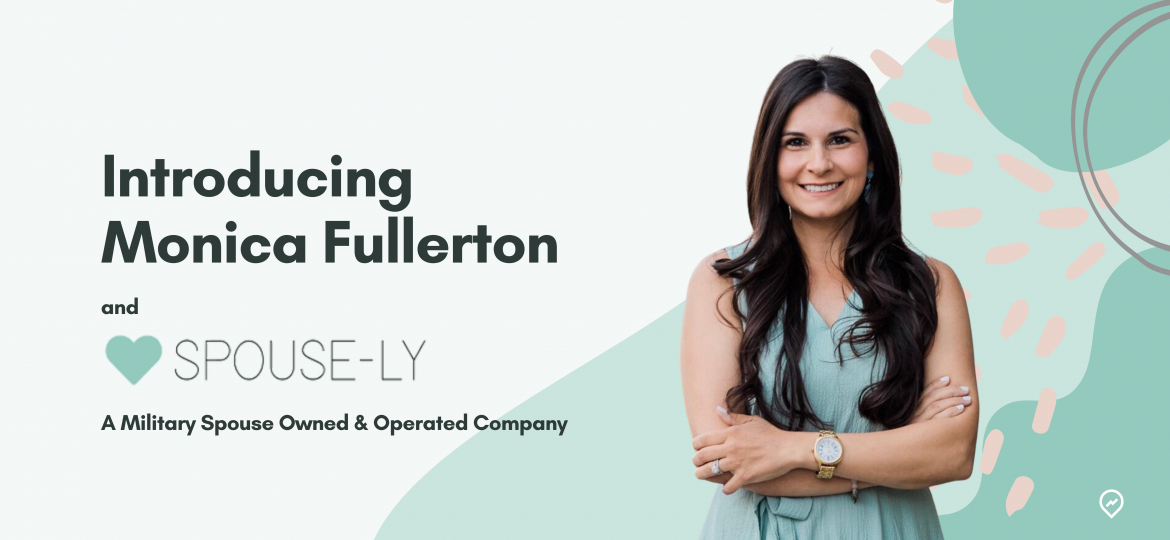 Introducing Monica Fullerton
We're excited to share an interview with our friend, Monica Fullerton, Founder and CEO of Spouse-ly. Monica is a familiar face in the military spouse community known for championing the creation of flexible, stable career opportunities for military spouses on the move, celebrating the resiliency of military families, and sharing the realities of what it's like to be a military spouse entrepreneur. Grab a cup of coffee, keep reading, and get to know her story!
Tell us about yourself and what Spouse-ly does.
Monica: Thank you so much for speaking with me. I'm Monica Fullerton, the Founder, and CEO  of Spouse-ly. I am an Air Force Veteran spouse and mom to twins, we are currently stationed in Las Vegas, Nevada. I launched Spouse-ly two years ago, right before the global pandemic. Spouse-ly is an online marketplace where you can shop a wide variety of both products and services all created by military and first responder families. I like to call it Etsy meets Angie's List but with a focus on shopping for social good and supporting our nation's heroes.
Why did you decide to start a company to support military spouses in first responder families?
Monica: It stemmed from my own personal experiences of being a military spouse and, honestly, my own frustration of being a military spouse. Being a military spouse is both rewarding and challenging. I wouldn't change anything for the world, but it always boils down to navigating what's going to work in this lifestyle. We move around, usually about every two to three years, our spouses deploy, and we're faced with the unknown frequently. It gets very, very real as you bring kids into the mix and try to navigate everything at once. 
I was very lucky to have a full-time corporate career prior to Spouse-ly. This role allowed me to gain more strength in business development, marketing, and communications and allowed me to see that there are so many opportunities out there. Sometimes we put ourselves in this box as a military spouse because we just don't think it's possible to do something that we love that can move around with this lifestyle. 
Long story short, I was so inspired by the amount of talent within our community alone that I wanted to be able to bring everyone together in one easy place where people could shop small and make a big impact. Spouse-ly is so much more than a place to shop. It's truly providing military spouses with the flexibility and stability they need while living a life on the go.
As a solopreneur, I was nervous and I was scared that this wasn't going to be something that I could handle and do on my own. But truly, what I realized through my journey, at the end of the day, I'm not alone. I have an amazing community behind me and right next to me and we're all powering it together. The power of community really can help continue to move barriers.
What are some of the biggest challenges you've faced as a woman entrepreneur? How have you overcome these challenges?
I have heard it all on this journey, things that, in my mind, I'd never seen as a hurdle. I'm the type of person that if I set my mind to it, I'm going to go after it. I don't really care what titles are or what different challenges might look like. If I've got an idea, I'm going to act on it. On my entrepreneurial journey, I have learned that being a mom, especially a twin mom, being a military spouse, and just being a woman, in general, has a lot of barriers that I never knew were out there, especially when it comes to fundraising. Military spouses are on the rise of entrepreneurship and a significant percentage of new entrepreneurs are female. It's all about trying to find a balance and bringing everyone together to see that we are a powerful force. It doesn't matter if you're a mom, it doesn't matter if you're a husband that's a military spouse. It doesn't really matter what the title is. It's about what we're able to do and how we can do it together. I want to help empower more people, whether they're a male spouse or a female spouse, to know that they can do it.
How do you manage the work-life balance? What are your best practices?
That is a great question. Everyday I'm trying to find the answer! The hustle and juggle is real. Sharing the real is important because we all compare ourselves to other people's journeys and ask ourselves, "how are they doing it? How are they making it work?" Then, we say to ourselves, "there's no way I could do that. I don't have the time, I can't make it fit into our lifestyle." The biggest piece of advice I can give is to let everyone know there is no secret sauce! There is no such thing as finding the right balance. It's truly about going after what you want and being able to make it work around your lifestyle. Routine is key, because it allows me as a mom, as an entrepreneur, as a businesswoman to identify times when I can get things done and somehow make it all fit together. It's kind of like a puzzle.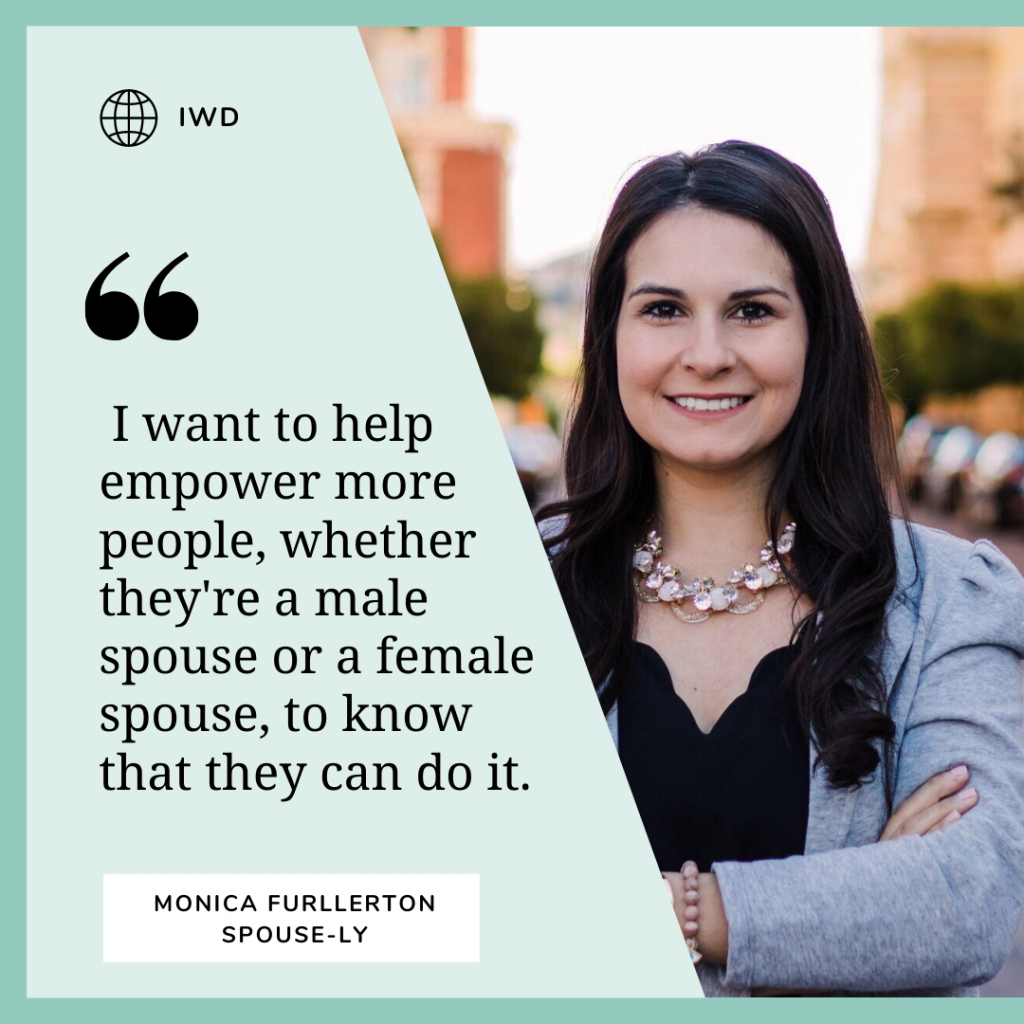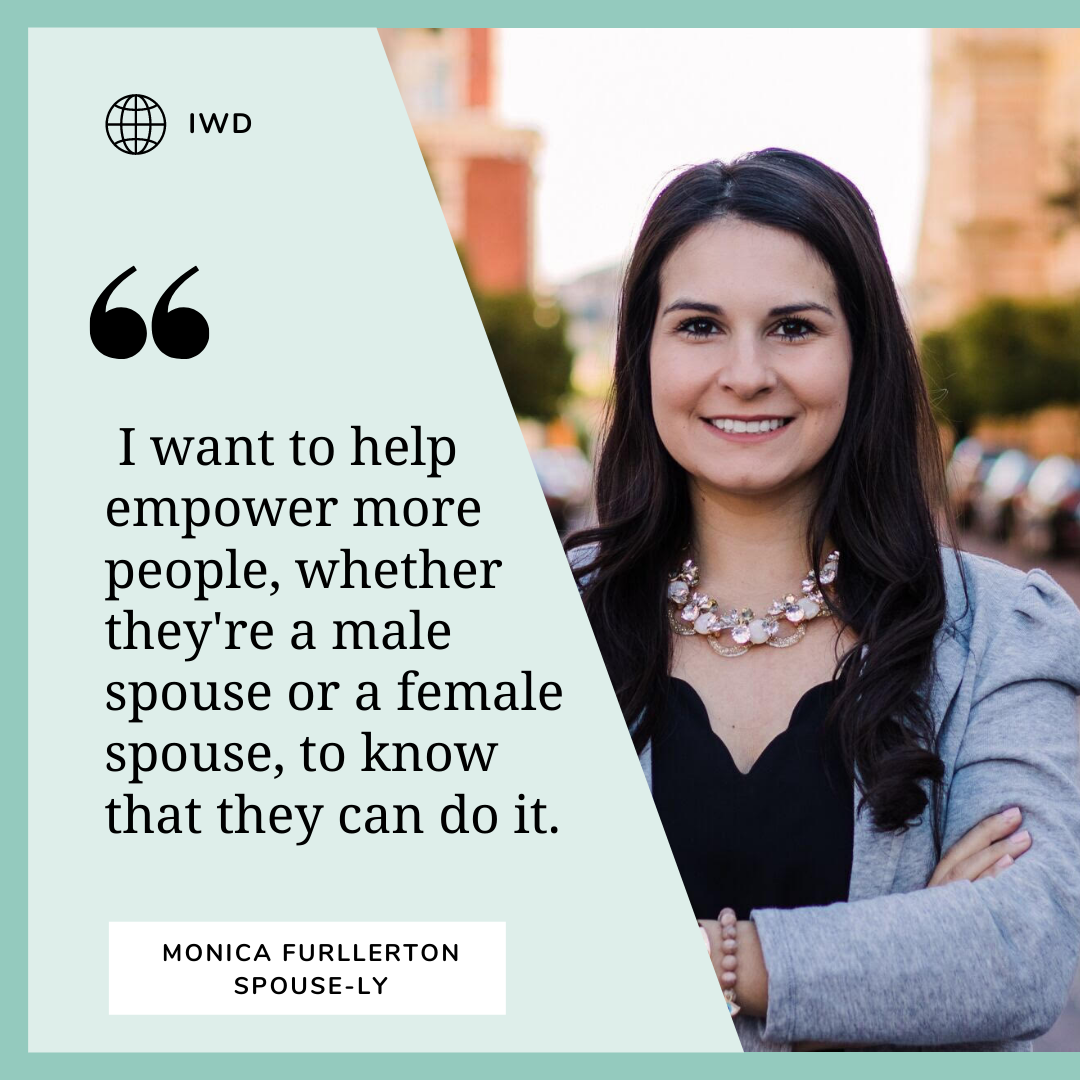 What advice do you have for other women entrepreneurs?
The best place to start is not holding yourself back. JUST GO FOR IT.  We always hold ourselves back. We overthink it or we talk ourselves out of things because it looks scary. The biggest lesson I've learned on this journey is that growth begins when comfort ends. I truly started living and breathing that statement after I made the decision to quit my corporate career and focus on growing Spouse-ly. I'm a very career-driven and structured person and letting go of security was scary, but when you have your mindset on something, you know that something has to give. The best advice I have for women in business and women entrepreneurs on the rise is to go after what you want.
How can we better support women-owned businesses?
There are so many things we could be doing to help each other. It doesn't always have to result in a high price tag. It can be something as small as sharing information about one another's businesses. If you love what someone is doing, pass it on to your friends and family. This sounds like a social media cliche, but having the ability to tag friends that might be interested in what someone's business is doing can truly move mountains. 
This is how Spouse-ly has continued to grow, by word of mouth. I have a very tight budget, I've been bootstrapping since launch, and I have seen the power of communication. If we just step up to the plate and help one another, more great things will continue to happen.
Being an entrepreneur is hard. It's one of the hardest things I've ever done. But, if we can continue to help one another, share the real that we experience on our journey including the ups, the downs, the highs, and the lows, we can empower more people to keep pushing forward. Entrepreneurship is an emotional and physical roller coaster. But, if we continue to stick the ride out together, there's going to be a big celebration in the end.
We hope Monica's incredible story and advice helps you on your entrepreneurial journey.
Do you want to learn more about spouse-ly investment opportunity?
Join our next Launch with Localvest on April 12th at 12 PM EST