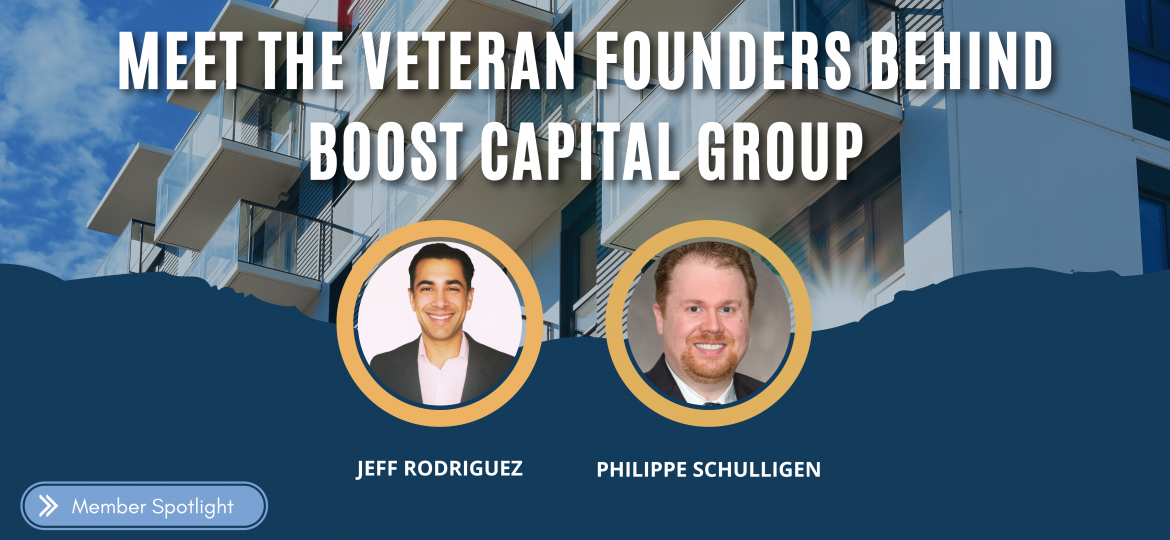 Get to know your fellow Military Veterans on the Localvest platform! We're excited to share an interview with Jeff Rodriguez and Philippe Schulligen, the military veteran Founders of Boost Capital Group, a private real estate investment firm. Jeff and Philippe founded Boost Capital Group out of a strong belief that no one should have to make personal sacrifices or miss out on quality family time in order to achieve financial security. You may already know about their company, but do you know much about their Military Service or how they got started in real estate? Grab a cup of coffee, keep reading, and get to know their stories!
Get to Know Jeff Rodriguez & Philippe Schulligen
Tell us about your military background. How did it influence where you are today?
Jeff: I came to the US at the age of three. My parents immigrated to the US for better opportunities, just like most families. I grew up in Southern California, and then later in North Carolina. I'm the second oldest of four siblings. It was a pretty busy household. We grew up working in our parents' businesses. My parents owned a couple of businesses and ventures so we didn't really have time for any extracurricular activities. We grew up helping them out, learning about business and what it's like to work in that field. At that point, I was not interested in running a business. I didn't know what career path I wanted so I joined the Marine Corps. In the military, there is always somebody telling you what to do so there isn't much to control on your own. However, the military instilled a lot of fundamentals and structure, especially learning how to follow orders. My military career was fundamental for my growth. 
While in the Marine Corps I served overseas, on several tours, several combat deployments, and in different capacities. During my last deployment to Afghanistan, I was injured, therefore ending my Marine Corps career. At that point, I had to think about transitioning and figuring out what I wanted to do. This was a major curve ball for me because my intention was to serve for 20 years. After  12 years of service, I started my transition process. This was a difficult time because I was recovering from my injuries and there was so much uncertainty about what was next. However, I was blessed to have my wife's support throughout the recovery and transition process,  and also had a great team of people in my life that helped me move forward from there. 
During my transition, I enrolled in college. I looked back on everything that I knew growing up and decided to attend a veterans entrepreneur program at Purdue University. This was a phenomenal opportunity because it brought back the mindset of wanting to be a business owner.  I was surrounded by other veterans and an incredible staff, which gave me the boost t I needed to pursue success in business ownership. 
Philippe: I was born in France. After a brief time in the military, I spent 20 years in the business aircraft manufacturing industry. I worked in team and project management roles, both in the IT department and sales engineering department. I came to the US for work when I was in my late 20s. Initially, I was only going to stay for six months, but one thing led to another. I had the opportunity to stay longer and eventually I never went back to live in France. I became a US citizen five years ago, and I now live in Atlanta, with my wife and our two young daughters. 
My military service took place in a context when France required mandatory military service for young men in the pre-2000s. I had the opportunity to serve in the headquarters of an army division for the Transportation Corps. It was a great experience for me and a great opportunity to discover and appreciate the military culture that I didn't know until then. 
Why do you think military veterans make great entrepreneurs? 
Jeff: Military service is strict for the most part. I feel it provides veterans with the tools to become great entrepreneurs by teaching them how to become effective leaders and followers. The focus on mission accomplishment is instilled during military service. It provides a purpose where mission focus, growth, and camaraderie are enabled. It always comes back to teamwork. Yes, you can do things by yourself but with a team, things go a lot further. Especially in this business, a team is very, very important for success.
How did you get involved in real estate investing? 
Jeff:  With my parents having a few business ventures, buy and hold of rental properties was something that they did. However, there were no contractors. We did all the work, from electrical to roofing to foundation repair. So I was familiar with real estate and rehabbing. When I transitioned out of the military, I found myself being drawn to real estate again. When I moved to Virginia, I started a company where I purchased properties as fix and flips or buy and hold. I did this in my local area, got a good team to work with, and just started flipping houses. However, I decided that I wanted to scale my business, so I started looking for options and found out about investing through syndication for commercial real estate, such as multifamily apartments. This really sparked my interest. I started getting more involved in learning the business and investing as a passive investor so I could learn how that process worked from an investor perspective. I read books, took courses, learned how to underwrite deals, and even hired a coach through a mentorship program. I have to say the transition was not cheap and required a lot of time to analyze deals, financials, market analysis, market trends, and much more.  I saw how things worked and learned what it's like to be a passive investor. I was now committed to commercial real estate investing, and my involvement just grew from there. 
Philippe: I started my real estate career as a side hustle. While I was working full-time, I started by purchasing a couple of single-family houses and then became interested in commercial, and multifamily real estate in order to scale. I transitioned to working in real estate full-time two years ago and I'm also a mentor for new entrepreneurs in real estate. Jeff and I came to appreciate real estate because there are so many facets and opportunities within the industry that bring multiple benefits to investors.
What is your vision for Boost Capital Group?
Jeff: Boost Capital Group is a private real estate investment firm that provides investment opportunities, risk mitigation, and portfolio diversification through alternative assets and commercial-grade real estate opportunities.
Philippe: Jeff and I founded Boost Capital Group because we had a common vision and we also have complementary skills and experiences. We recognize that there are a lot of professionals and family providers who are busy with their lives and busy with their careers and busy with their families. And they may not be aware of all the investment opportunities that exist around them, in alternative assets in real estate and in passive investments particularly. We strongly believe that everyone should have an opportunity to balance their professional and personal life. People shouldn't have to compromise or choose between spending quality time with family and securing their financial future.
Jeff: The way we differentiate ourselves is through our service to our investors. We created a fund that provides an elevated level of transparency, flexibility, and control to our investors by providing them with a platform to create a diversified portfolio inside the fund, allowing them to select the deals they want to invest in. It's something you rarely see in a fund, individual deal selection, and the high levels of transparency.
Did you enjoy reading Jeff and Philippe's stories?
Connect with Boost Capital Group on Localvest!
Their Boost Wealth Fund allows investors to build their own customizable "a la carte" portfolio and invest in high-quality equity deals.

Are you a military veteran looking to raise capital? We have the perfect tools for you.
Explore our website and learn how Localvest can help you to succeed.