Welcome to Localvest
A SaaS Solution to Raise Capital - Faster
Localvest is purpose-built as a Software as a Service solution helping Military Veteran Entrepreneurs raise capital faster. Our tool was designed for ease of use and is easy to understand by Issuers and Accredited Investors. Join the incredible community and network of Veteran Entrepreneurs, Military Investors, Service Academy Graduates that we have gathered with our platform to help answer questions, connect you to other resources and assist with your capital raise.
We invite you to explore the following sections below to get a glimpse of our platform and how it helps you optimize sharing your deal, communicating with investors, engaging our community, and more. We look forward to working together.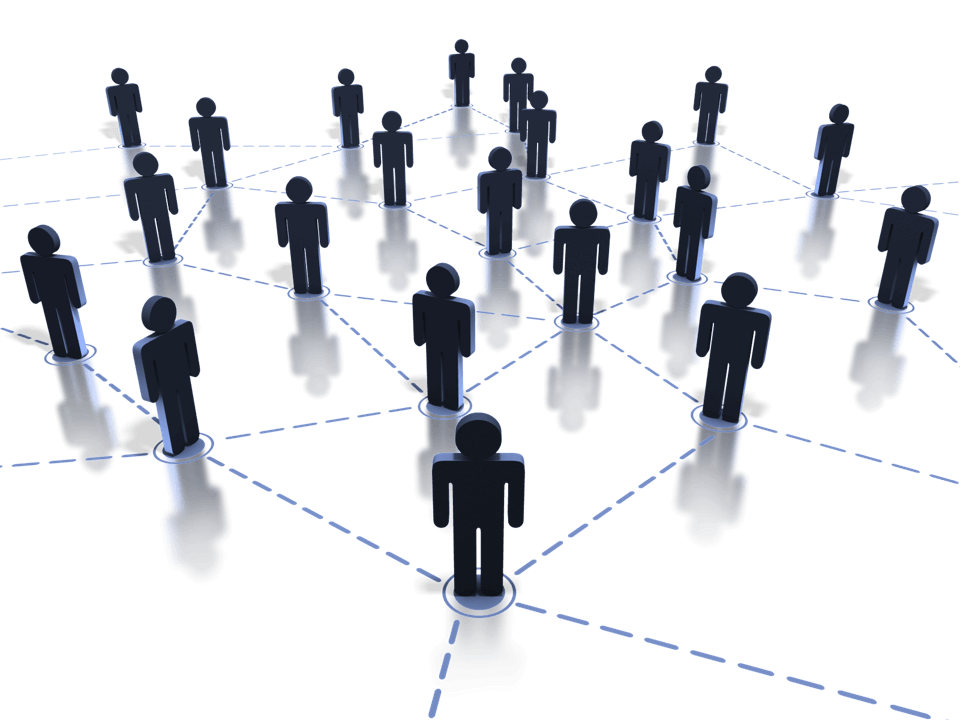 The Dashboard
You Are Part of a Larger Community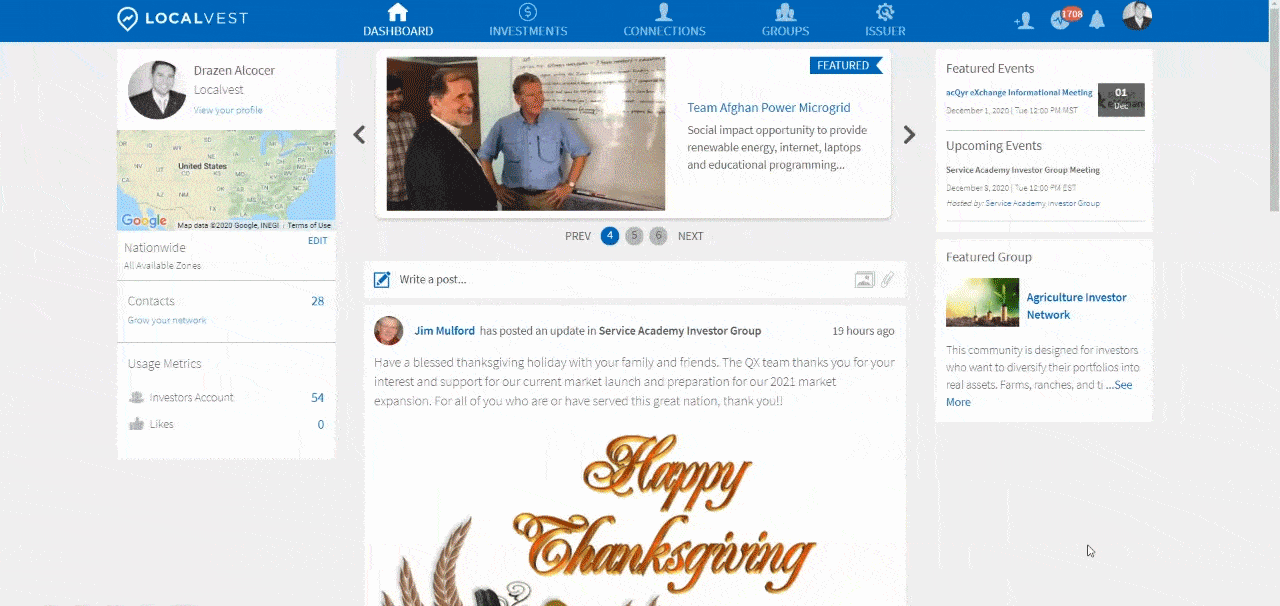 You will immediately notice a community of Accredited Investors and Issuers on our platform sharing activity on their deals, following deals, and sharing useful information with each other when you first log in to Localvest. You can see what events are coming up that may be of interest to you, investor groups you may potentially join, and more directly from this screen. Welcome to Localvest, a community-driven and supported by Military Veteran Entrepreneurs.
Your Deal Tile
Make Your Offering Shine
Your Deal Tile helps your offering become easy to read and understand by investors. We focus on all the data points that an investor is most interested in and display them in a concise and clean way to help engage potential investors and start the conversation with you. The ability to connect, schedule meetings, and more, directly from your deal tile make it simple for investors to contact you and learn more about you and your company. Find out what yours would look like today.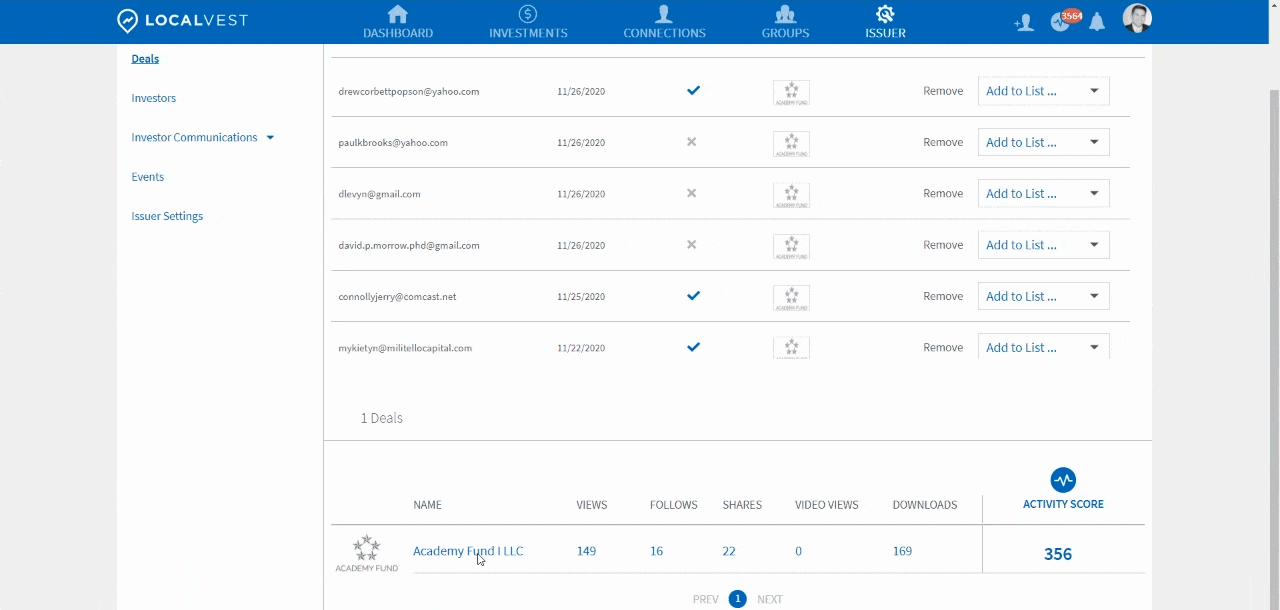 Create Events
Schedule | Host | Connect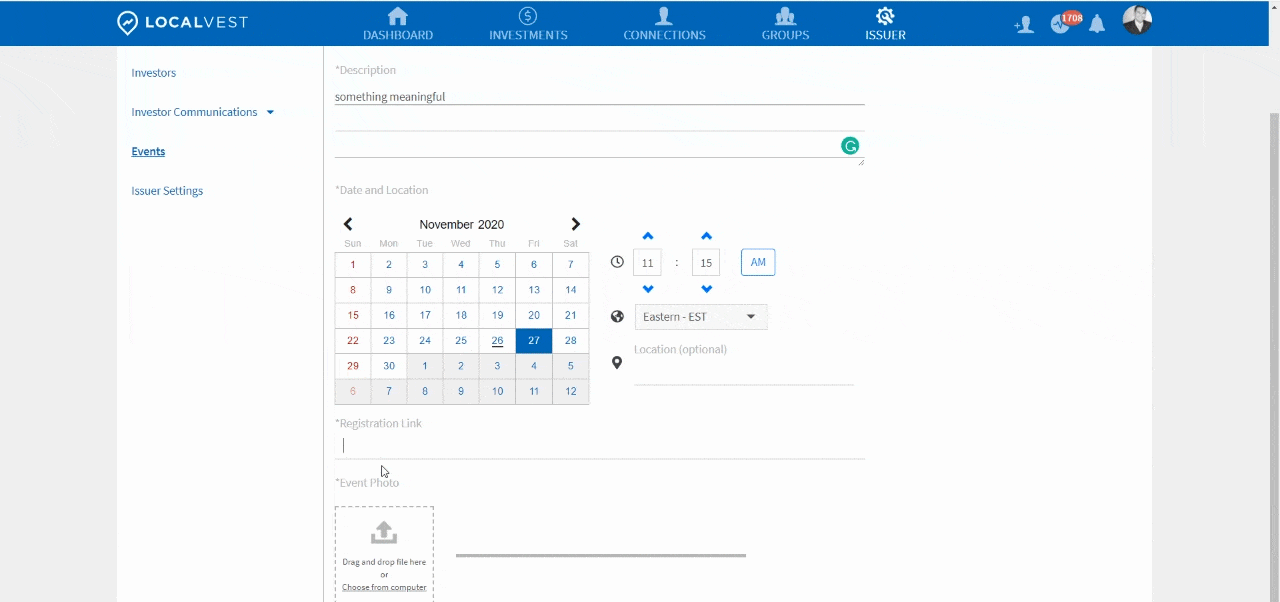 You can easily create events on Localvest. Once your event has been created, anyone who is interested in your offering will have the ability to easily register and attend your event via your deal tile. You can also invite your network by sharing the link via e-mail, on social media, or with any groups that you may belong to increase the success of your event.
Platform Highlights
Here are some of the features that make Localvest have a unique way of raising capital compared to the rest.
If you have any questions in regards to our platform or would just like to learn more about what we are doing to level the playing field in the capital raising world, please contact us anytime or

schedule

a time to speak with one of our team members.