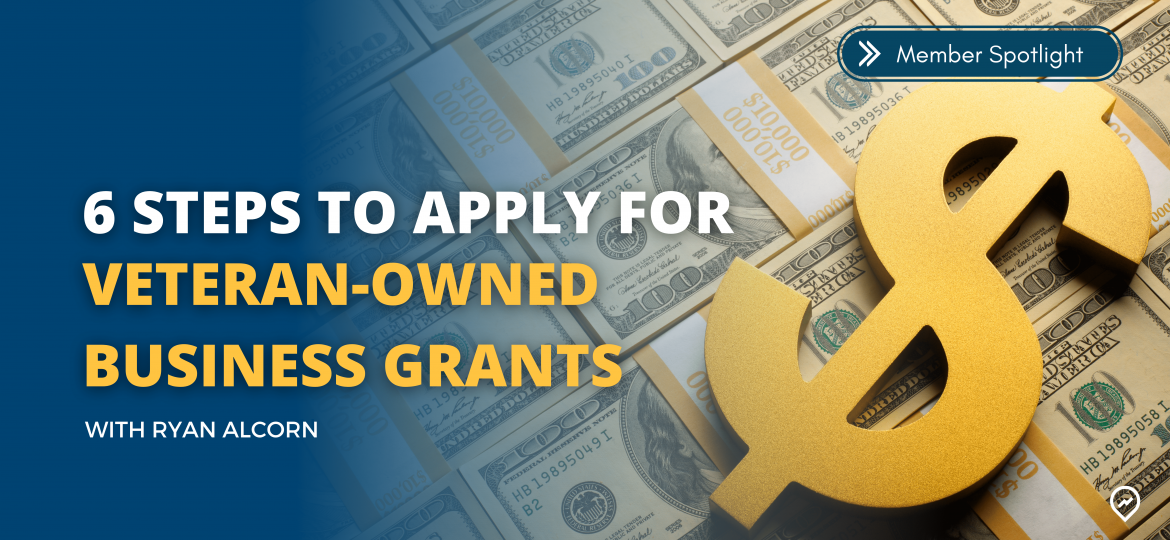 Veteran-owned businesses play a crucial role in the economy, providing jobs and essential goods and services to their communities. Recognizing this, many private organizations and government agencies offer grants exclusively to veterans. Additionally, veteran-owned businesses are strong candidates for competitive grants because they often have unique perspectives and experiences that can bring innovative solutions to the table, and they may also face additional challenges in starting and growing their businesses due to their military service.  These grants can be a great financial tool to promote the growth and development of your company—if you can find and win them.  To help you learn more about how you can take advantage of grants programs, we sat down with Ryan Alcorn, Founder & CEO of GrantExec, to bring exclusive content for you on why, how, and when to apply for Veteran-Owned Business Grants.
WHY SHOULD I SEEK GRANTS?
Grants provide valuable financial resources allowing your organization to initiate, maintain, and expand mission goals. They can cover a wide range of expenses including start-up costs, marketing, and advertising, research and development, and more. Depending on the source, type of grant, and purpose, funding can range from a few thousand to millions of dollars. For example, the Illinois Department of Veterans' Affairs offers competitive grants of up to $25,000 to help veteran-owned businesses start or expand their operations. This money doesn't have to be paid back, nor do you have to give up a piece of your company.  But, grants don't come easy. Most are competitive and all demand significant time and effort to locate and apply.
The best approach is to break the application process into distinct tasks:
Outline your proposed project (or expansion of an existing one), and determine a realistic amount needed. This will refine your search criteria and help you get a jump on the documentation required in any resulting application. Most grant applications will require a detailed accounting for the proposed use of funds (e.g., staffing, services, administrative costs, supplies, travel, etc.) and a justification for funding.
2. Identify Relevant Grant Opportunities
Grants are plentiful – but finding one can feel like looking for a needle in a haystack. One option is to conduct web searches using keywords and phrases relevant to your project. Consider this —  70% of active grants come from private foundations, and each foundation has its own website, making the search process incredibly tedious. There are databases of grants and funders out there, but they are costly and still require you to manually vet each opportunity.  Seek out entities with similar goals and ask about their funding sources. Just be prepared, the search processes can be time-consuming, frustrating, and resource intensive.
 Gather Essential Data in Advance. Having the content below in hand will speed up the application process and make your organization more agile in responding to grant opportunities. While the data required varies by funding entity, standard elements include:
Organizational history and mission

Description of the target population, needs, and proposed services

Assertion of how your project is distinct from other programs serving your target population

Major accomplishments to date

Challenges and lessons learned with the program to date

Milestones and expected accomplishments

Description of progress evaluation process

Staff and team leader resumes or biographies, including senior leadership of the organization, board members, and the key staff

List of other cooperating organizations

Financial information, including audited financials, a budget for the proposed program, a budget narrative explaining how you plan to use the grant funds, a list of other funders, and tax forms

A program sustainability plan

Additional attachments such as a 501(c)(3) letter and an annual report
Eligibility is everything. The first hurdle in applying for a grant set aside for veterans is, obviously, being a veteran. But there will likely be other requirements such as: Are you a nonprofit? Do you have 501(c)(3) status? Do you qualify as a small business? Is your organization woman-owned? Minority-owned? Does your organization reside in-state? Are you a Tribal Organization? Have you received a grant in the last 12 months? Are you prepared to match grant funds? These are just a few of the possible eligibility requirements. Make sure you meet every stipulation of the grant criteria—if you don't, move on. Unsure? Some grantors offer a Q&A period.
4. Create an Application Checklist
Grantors will reject incomplete or non-compliant submittals. In their estimation, if you can't deliver a satisfactory application, you're a poor candidate for funding. You can avoid this by creating a comprehensive checklist (ideally in a shared document) that breaks down each required element (e.g., Project Summary, Budget, Required Forms, etc.) and assigns a due date and responsible party.
5. Establish an Application Production Schedule
Determine the delivery date and work backward from there. The table below provides an abbreviated example based on a 30-day window (excluding weekends and holidays) and assumes early submission*.
Host a kick-off meeting with all involved parties and set expectations for participation and deliverables. Set and enforce deadlines for all tasks. *Plan to submit the application early. This builds in time to deal with unforeseen challenges and, in some cases, grantors offer an early review and allow for corrections prior to the due date.
Overreliance on a single funder is risky. Seeking grant opportunities from varied sources has multiple benefits including minimizing the risk of economic downturns, increasing revenue, and providing separate pools of funding to support distinct efforts within the organization.
To sum up, submitting a grant takes tens if not hundreds of hours of research and writing, and some nonprofits and small businesses don't have the capacity to handle that commitment. Further, it's time away from fulfilling your mission. If your organization is stretched, we recommend GrantExec.
GrantExec makes the grant-seeking process painless and cost-effective. They identify, vet, and recommend relevant grants for your specific organization. They'll sit down with you to review our recommendations and create a game plan to secure each one. Further, they have a dedicated team of grant writing experts ready to write your application or just give it a once-over (whatever makes sense for you). 
Learn more about business grants (aka Non-Dilutive Capital) ON JANUARY 10TH AT 12 PM-est