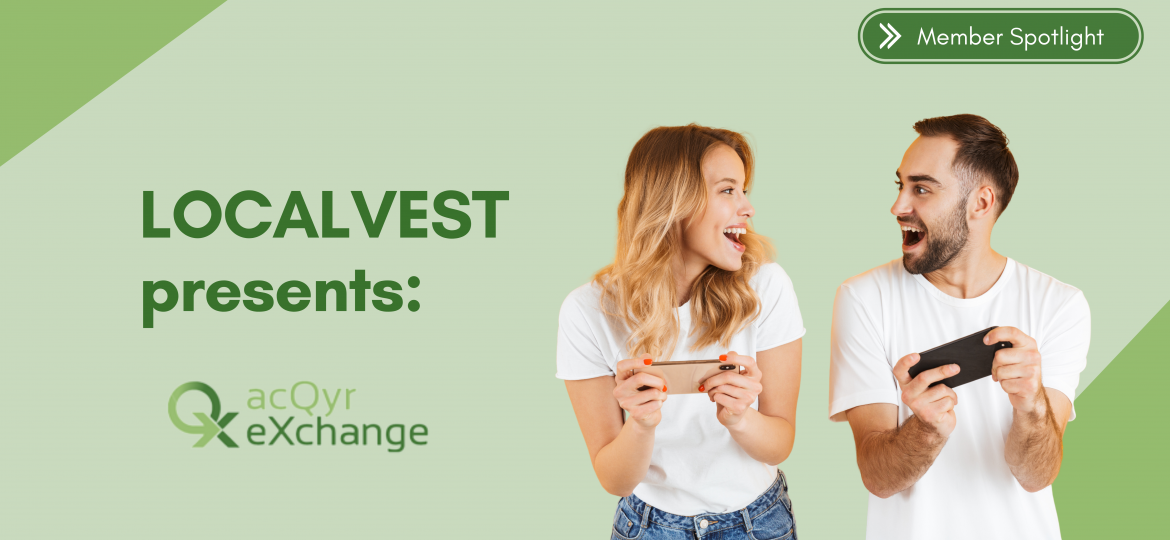 Localvest Presents acQyr eXchange
The Localvest Platform is designed to help military veteran entrepreneurs raise capital faster. We're excited to tell you more about the businesses behind each capital raise. 
Today, we present acQyr eXchange, a cloud-based platform for issuing, tracking, exchanging, and redeeming loyalty rewards across multiple rewards programs in the mobile and video gaming industry and beyond.
Why is acQyr eXchange developing rewards redemption technology?
Jim Mulford, President and CEO of acQyr eXchange (QX), is a U.S. Air Force Academy graduate and experienced entrepreneur with over 45 years of experience in technology, executive leadership, and business management. His previous roles as founder and leader of several successful technology-enabled businesses, including a complex systems integration company with over 300 employees, fuels the wise innovation behind acQyr eXchange today.
Prior to specializing in developing technology that transforms how individuals buy, sell and spend digital currency, Jim spent eight years serving in the U.S. Air Force where he supported the design, development, implementation, and operations of U.S. Air Force mission-essential technology. If that's not impressive enough, Jim also received a master's in Computer Science from UCLA and served as a private-sector Commissioner for the State of Colorado Information Management Commission. 
Mulford's unmatched expertise and incredible talent for integrating and applying information technology to deliver groundbreaking business solutions helped him identify a significant gap in the mobile and video gaming industry that acQyr eXchange now fills, making it easier for game publishers to attract and retain customers through personalized offers and loyalty rewards while providing gamers with cash incentives.
What does acQyr eXchange do? 
acQyr eXchange (QX) is the first rewards redemption platform of its kind that allows gamers to turn earned rewards into cash across multiple games. Gamers are able to manage, exchange, and redeem their gaming digital assets on the exchange with the QX mobile app. 
The acQyr eXchange:
Helps mobile and online

game publishers

to increase gameplay and grow revenue by providing a superior solution for redeeming digital assets.

Allows

gamers

to own and exchange all earned rewards from participating games into local currency.

Works on an easy-to-use

mobile app

that allows the user to manage, exchange, and redeem rewards in real-time.
How is acQyr eXchange growing? 
Over the next three to five years, acQyr eXchange wants to become a leader in the mobile and video gaming industry by helping gamers redeem rewards for cash with a user-friendly app and by helping game publishers attract and retain their customers. 
Another priority for acQyr eXchange is expanding the reach of their innovative rewards redemption solutions beyond gaming into retail, which would allow individuals to earn points at local restaurants, for example, transfer them into the app, and convert these rewards into cash also.
Connect with acQyr eXchange on Localvest!
Are you interested in learning more about acQyr eXchange? Connect with Jim Mulford on Localvest! acQyr eXchange is bringing the profit-generating success of personalized offers and rewards from the retail market to the very large and rapidly expanding mobile/video gaming industry.