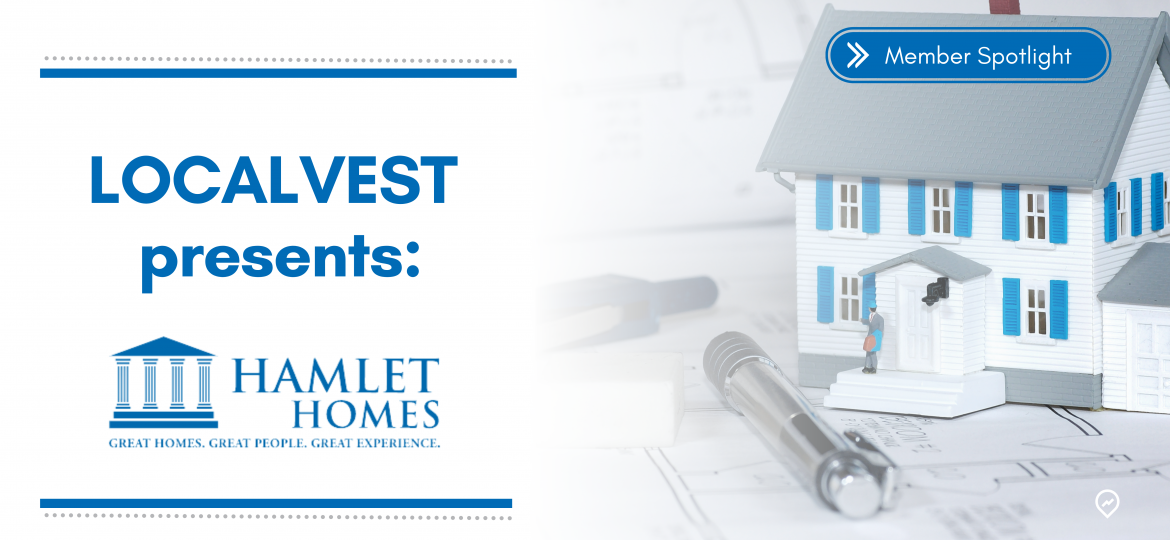 Localvest Presents Hamlet Homes
Today, we present Hamlet Homes, a production home builder committed to providing homebuyers with quality, customer-oriented townhomes and single-family homes located in attractively designed neighborhoods in northern Utah. As of this year, Hamlet Homes has created over 3,900 homes in 65 communities.
What does Hamlet Homes do?
Hamlet Homes is a home builder and recognized leader in urban redevelopment and transit-oriented communities. Built on a foundation of good ethics, quality products, great build times, and excellent customer service, Hamlet Homes has goals to become not just a homebuilder resource, but a place where home buying needs and wants are heard and met. Hamlet Homes are thoughtfully designed, responsibly built, and prioritizes customer experience in order to take the stress out of the home building and make the process more fun and exciting for buyers.
Hamlet Homes is run by a thoughtful and highly-experienced leadership team whose mission is to provide extraordinary experiences by creating thoughtfully designed homes and neighborhoods. At the helm is President and CEO, Barry Gittleman who joined the company in 2016.
Hamlet Homes is based in Salt Lake City, Utah. After the company was founded in 1994, it experienced phenomenal growth, employing over 100 people at its peak. When the recession began in 2006, the company began to shrink and ended up with just six employees after six years. After successfully avoiding bankruptcy, Hamlet Homes began growing again in 2012. In 2016, When the company's original Founder and President reached retirement age, Barry and three other partners acquired Hamlet Homes and since then they have grown their team from 15 to 50 employees and built an average of between 100 and 150 homes per year.
Prior to his career in real estate, Barry grew up in Southern California and graduated from the U.S. Naval Academy in 1989 with a degree in Control Systems Engineering. He served on three fast-attack submarines for over 12 years on active duty before transitioning into the reserves for eight years and retiring from the military in 2009.
How is Hamlet Homes growing?
Utah is currently one of the hottest real estate markets in the United States. Over the last two years, Barry and his team have grown the company's friends and family investor list from 20-30 individuals to over 160 individuals. Following a brief six-week slow down after the Covid-19 pandemic hit in 2020, Hamlet Homes is now thriving in the midst of a housing boom. Prior to the pandemic, it would typically take Barry one to two months to raise enough capital for a project. Now, thanks to the increasing demand for real estate and the company's growing list of trusted investors, Barry is able to raise the funds he requires in just 24-48 hours!
Hamlet Homes growth under Barry's leadership team demonstrates how prioritizing the formation of good relationships with both investors, customers, and employees not only strengthens a company, but also helps raise capital faster. The team's success is further measured by recent awards they've received, including the 2020 and 2021 Best of State Award and 2020 Best Place to Work from Utah Business Award.
interested in learning more about HOW TO RAISE CAPITAL FOR REAL ESTATE?
Join our next event on March 30th at 12 PM – EST