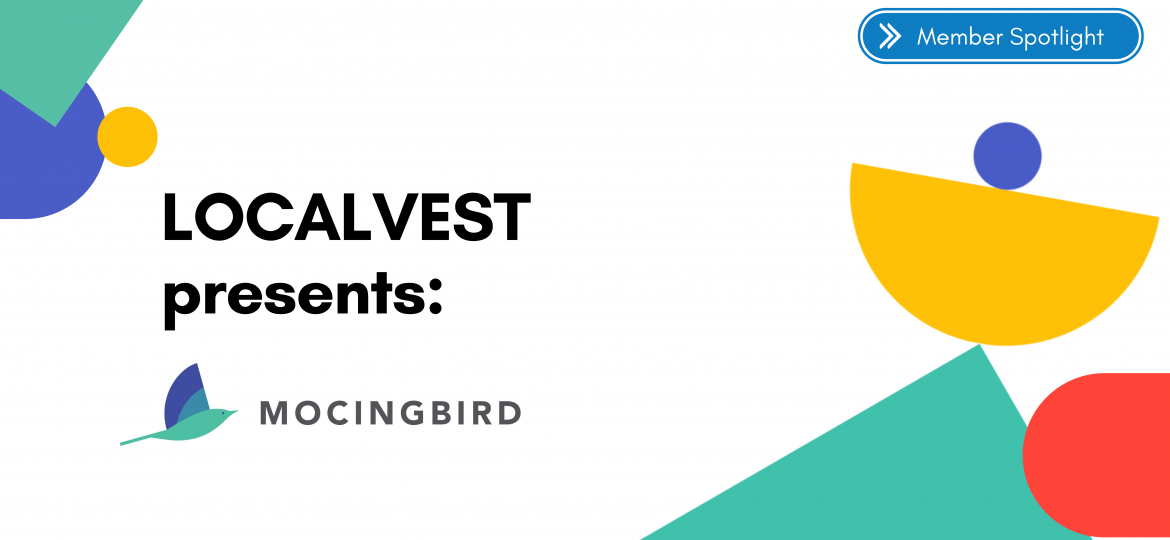 Localvest Presents Mocingbird
The Localvest Platform is designed to help military veteran entrepreneurs raise capital faster. We're excited to tell you more about the businesses behind each capital raise. 
Today, we present Mocingbird, a ground-breaking cloud-based system designed to revolutionize the healthcare ecosystem by streamlining continuing education and simplifying ongoing credentialing for medical professionals.
Why the name Mocingbird?
People often wonder if the founders of Mocingbird misspelled the name of their company. The answer is no! In fact, there's an interesting story that explains the missing letter k.
Ian Madom and George Fernaine, an Orthopedic Spine Surgeon and a Cardiologist, founded the company out of a personal need and desire to streamline and automate maintenance of certification (MOC) requirements for medical professionals like themselves. They wanted to include the recognizable acronym MOC in the company name, but didn't know how. 
One day, as they sat in a car discussing business ideas, a baby mockingbird fell from a tree they were parked underneath and onto the hood of their car! It was a eureka moment that hatched Mocingbird as we know it today. And, thankfully, the baby bird that inspired the company name survived too!
Soon afterwards, Madom and Fernaine enlisted Brad Artery – a U.S. Navy veteran, the husband of a Nurse Practitioner, and a seasoned business executive–as Mocingbird's President and CEO. A shared vision and genuine desire to impact clinicians' lives for the better combined with a talent for team building and delivering cost savings enabled Brad to grow Mocingbird into a fully fledged company with an amazing product offering that is revolutionizing healthcare, ending clinician burnout, and improving patient care.
What does Mocingbird do?
The Covid-19 pandemic highlighted the fact that clinicians are not only faced with the challenge of maintaining board and speciality certifications, but also require state licenses in order to practice in person and through video conferencing. In order to see patients in all 50 states, clinicians must be licensed in the states where their patients reside. Each state has different requirements and deadlines, which means healthcare providers regularly shoulder huge administrative burdens to try and understand what's needed. 
Mocingbird is a cloud-based system that automates this process, gathering maintenance of certification (MOC) and state licensing rules, requirements, and deadlines for multiple medical professionals, ranging from Nurse Practitioner to Orthopedic Surgeon, all in one place. 
In addition to keeping track of deadlines, medical professionals, Mocingbird also provides continuing medical education (CME) content that aligns with ongoing requirements so healthcare providers don't have to waste time searching for CME content on their own. Mocingbird is the only cloud-based system of its kind and interest in the company is quickly gaining momentum.
How is Mocingbird growing?
Individual clinicians, healthcare organizations, and hospitals are responding positively to Mocingbird's user-friendly system. Within the next three to five years, Brad is focused on strengthening and expanding Mocingbird's B2B sales and raising positive brand awareness through partnerships with healthcare organizations including Startup Health and Global Health Impact. By the end of 2021, Brad expects Mocingbird will have 10,000 members and he plans to grow this number each year through measurable and realistic objectives.
The ultimate goals of Mocingbird are:
Relieving the burdensome administrative workloads of medical professionals
Improving the wellbeing of medical professionals 
Giving medical professionals more time to focus on patient care
Transforming CME into an impactful experience rather than a tiresome exercise 
Brad and the entire Mocingbird team are passionate, driven and committed to their ambitious yet attainable goals. They've witnessed and experienced the life-changing benefits of their system and won't stop until they've made the healthcare industry a more caring and compassionate place to work.
FOLLOW MOCINGBIRD ON LOCALVEST!
Are you interested in learning more about Mocingbird? Connect with Brad Artery on Localvest! Mocingbird provides a unique opportunity to invest in a platform that simplifies the lives of healthcare clinicians…giving them time back!