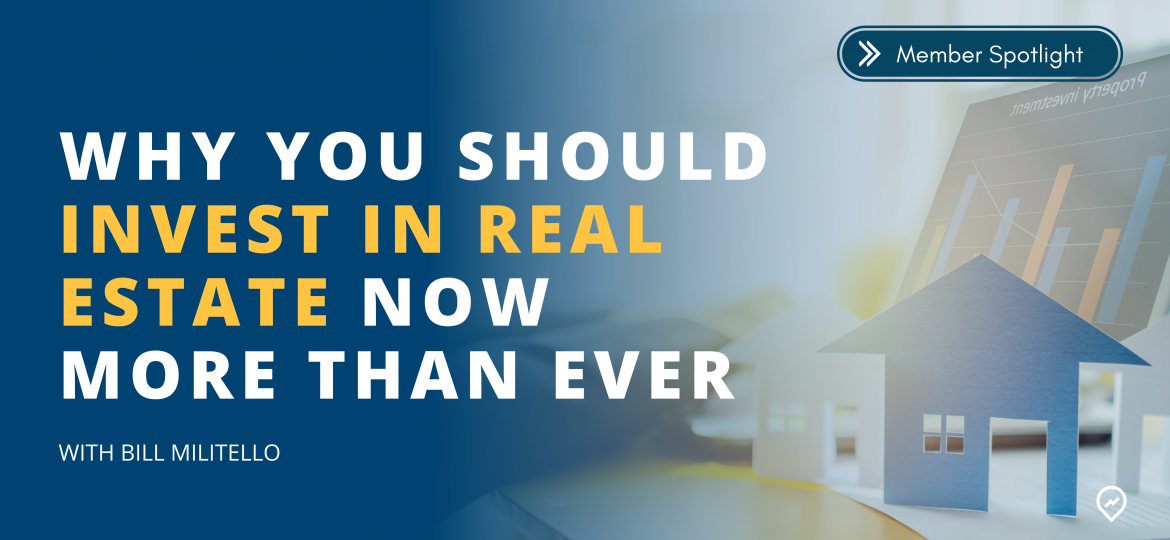 The world of real estate investing changed, but that doesn't mean you should sit on the sidelines when it comes to including real estate in your portfolio.  It definitely means you should be asking some different questions.  Jake Dulle, CEO of Localvest, sat down with Bill Militello, the founder of Localvest and head of Militello Capital, and talked about how to think about real estate investing in 2023.
Jake: WHERE ARE YOU WHEN IT COMES TO REAL ESTATE INVESTING IN 2023?
Bill Militello: Well, it's a different market than the last couple of major downturns because we've never come off of such an absolute low of almost free money followed by such a quick rise in interest rates.
Now money is expensive, at least relative to say the last twenty years. Historically it's normal, but nobody likes to remember that it was at this rate twenty years ago. We are facing the consequences of this large pendulum swing. The consequences are the built-in biases.  Models were built and priced to perfection. They anticipated this low-interest rate environment was going to persist.  A majority didn't believe interest rates would rise to the extent that they did and definitely not at this speed.  As a consequence, all of these models, all these pro formas, all these very fancy investment brochures, with just modestly higher interest rates are really worthless at this point.  The business plan just doesn't work.
Jake:
I STILL SEE DEALS ASKING FOR CAP RATES LOWER THAN WHAT I CAN GET ON A T-BILL
Bill Militello: 
Cap Rates come into play around a refinancing event – the purchase, a refi, or an exit.  But it's not just the cap rates but the unknowns on future financing that hurts GPs.  If you have a property purchased in the last 24 months with a large amount of development required, more than likely that the property did not have permanent financing. Until the improvements have been completed, the lease-ups happen, they get specific ratios in place, and they're at a certain net operating income level, they are on temporary financing.  A large number of properties were purchased under this scenario.  A lot of deals looked good with no interest rate cap and no permanent financing. They had to borrow money to make these improvements and are now facing dramatically higher capital costs. That's what I mean that the business plans no longer work. They are all in the red, some dramatically in the red. That shoe is dropping now.
Jake:

SOME INVESTORS DO HAVE CAPITAL READY TO DEPLOY. HISTORY SAYS TIMES LIKE THESE COULD BE A GREAT BUYING OPPORTUNITY. WHAT EXCITES YOU AS AN INVESTOR RIGHT NOW?
Bill Militello: Let's start with what doesn't excite me – the investments using the same game plan of the last couple of years. Anything that includes any sort of rehab, where they cannot lock in permanent financing, and they assume rates will go down by the time they need to shift to permanent financing.  Well, that's a guess. That's speculative. Do you want to build a business plan around a guess?
What does excite me?  I don't want to sound predatory, but there are some properties underwater that need help.  These are smart people who are in a bit of trouble.  They are dealing with a tight situation.  They could throw the keys to the bank and walk away.  That's not good for anybody.  I don't see a lot of that happening unless it's a real garbage property.  Instead, these GPs will be looking for rescue capital. I would look for ways to provide rescue equity If the banks aren't going to lend more to finish a rehab. The only lever to pull is more equity to get to the next event.
Would I invest at the same terms as the equity last year? No, that's where the opportunity comes into play. There are opportunities now where that money gets a higher preferred return or that money is in front of the other equity. Those are the opportunities that are starting to percolate up, and that's where a lot of money will be made.
Jake:

OUTSIDE OF THESE TIGHT MULTIFAMILY DEALS, ARE THERE OTHER ASSET CLASSES THAT LOOK INTERESTING?
Bill Militello: I think light industrial and warehouses are really interesting macroeconomically.  I think a few years ago we hit peak globalization, and now we're coming back to onshoring or reshoring our own industrial and manufacturing base. There's a gap between warehouse and flex industrial in the United States. I believe there is wind at the investor's back for that asset type.
I'm still a believer that a largely occupied office product in the right geography – namely the southeast United States – can be found at attractive cap rates.  It will come back, and when it comes back a lot of money will be made.  Those operators who were smart during Covid and were able to restructure their debt are likely well positioned for a lot of success over the next two, three, or four years.
With respect to multi-family, I like multi-family.  Geography is most important followed closely by quality. I am talking about Class A, highly amenitized assets.  You will continue to get premium pricing with the tenants and you're going to be able to move up the rents if you offer a quality product.  These are designed to make the right operating income no matter what the prevailing cap rate is.
Jake:

SO INVESTORS HAVE OPPORTUNITIES OUT THERE TO MAKE GREAT LONG-TERM INVESTMENTS
Bill Militello: I love telling the story of 2012.  During the last financial crisis, residential real estate, and really all real estate, went down.  It went down immediately.  It bottomed in some markets in 2009, but some took a few years to work its way out.  So there we were raising money and investing in southwest Florida for a hundred million dollar unlevered commercial real estate fund. You could feel the bottom.  You studied the data, and the population flows.  Everything pointed to the bottom of the market in southwest Florida. If you bought at any time during that point you made money.  I can tell you when I was talking to investors about real estate in 2012 I might as well have been using a four-letter word.  They would scream at you and say my neighbor lost their house a few years ago. They would say this is the worst asset class in the world. That can be a good indicator if you are even slightly contrary. When other people are running away, I wouldn't necessarily run in.  I would, however, use that as an indicator that there is an opportunity somewhere.
Jake:

WHAT QUESTIONS ARE YOU ASKING GPS IN REAL ESTATE DEALS NOW?
Bill Militello: At least now we can ask questions.  Over the last couple of years, I've been very surprised how many sponsors of deals have been able to successfully raise capital so quickly.  I've been approached to invest and then told to hurry up without due diligence.  I was on page 3 of the PPM only to be told it's already filled. Many deals in the last few years did not have time to conduct a sensible, serious analysis of the deal.   You need time to ask questions and have that normal discourse and conversation back and forth between the sponsor and the investor.  For me, I was pulling in my horns and getting in only a few of the very best deals.
Now investors are not so eager to just jump in and write a check.  They are back to taking their time for due diligence.  Those GPs with marginal deals are having to answer tough questions and the process is moving a lot more slowly. This is how it should be.  Raising capital shouldn't be that easy.  So many green GPs never really appreciated how difficult it is.  GPs need to be transparent, provide education to your investors, and be buttoned up.  Investors should expect much from their GPs.
Jake:

I KNOW IT'S NOT REAL ESTATE, BUT FROM THE FAILURE OF FTX, I AM SURPRISED HOW LITTLE DUE DILIGENCE WAS DONE. PEOPLE THOUGHT SOMEONE ELSE WAS DOING THE DUE DILIGENCE AND TRUSTED THE OPERATORS KNEW WHAT THEY WERE DOING. THEN AGAIN FOLLOWING THE LEAD OF OTHERS CAN BE A HELPFUL WAY TO BUILD TRUST ON A DEAL. HOW DO YOU RECONCILE FOLLOWING A LEAD INVESTOR WITH DOING YOUR OWN DUE DILIGENCE?
Bill Militello: I think you should follow people into deals because that's a great way to learn from experts. But I would follow smart people you trust.  Do you really know that sponsor?  Do you know the managing director of that venture capital, a private equity firm, or RE fund?  Do you have a personal relationship?  Don't invest with others based on their brand recognition.  That's silly.  You need to know their background.  Make sure you have access to them.   That's why Localvest is so important for the Veteran community.  It kickstarts the first questions of trust and access.  You still need to ask questions and do your due diligence.  Being in the Veteran community just makes it easier to start getting those answers.  
It comes down to three questions. Do you trust them? Do you know their experience? Do you have access to them to validate their diligence?
Jake: THIS SPEED TO GET A DEAL DONE IS A RECIPE FOR BUBBLES. 
Bill Militello: Exactly. If a sponsor doesn't have time to answer your question, then you don't have time to write a check. Ask the question. Don't think that the other person must have asked.  This "Hurry up!  Almost full!" mentality led me to immediately withdraw from an opportunity in the last few years. There are valid "Hurry ups" like you came into due diligence late and we close in 3 days.  You know pressure to invest when you see it.  If you get that pressure in this market, that's probably a good sign for you to take a pass.  Another opportunity will come along.  There is always a bull market happening somewhere.
Whether you are a seasoned entrepreneur or just starting out, investing in real estate can provide you with the stability and additional security you need to grow your business and achieve financial success.
Connect with Bill Militello on Localvest and learn more about Militello Capital and its investment opportunities.