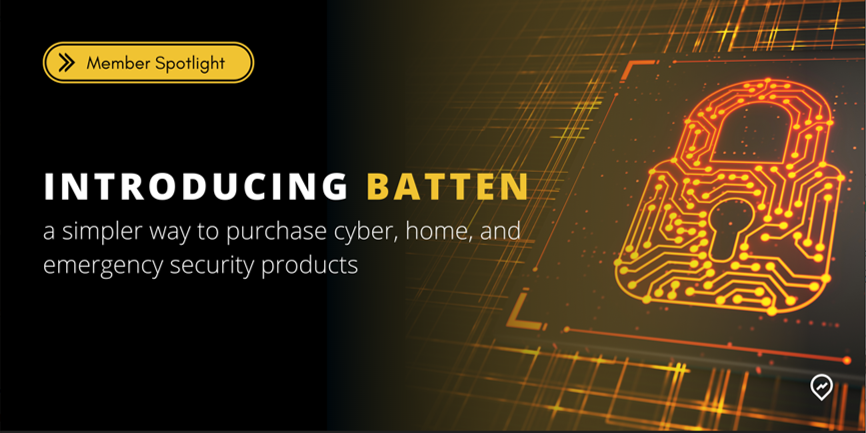 A new digital marketplace where experts help simplify the process of finding the right way to protect you and your family.
Batten is a digital marketplace (battensafe.com) focused on family security, offering curated security recommendations nationwide. With the proliferation of cyber attacks and natural disasters, guarding against today's threats is a necessity and should be as simple as booking a hotel room or buying car or home insurance. Identity theft and fraud losses cost Americans $3.3B in 2020, an increase of 83% year over year. Batten has been changing the approach to family security.
The company's mission is to help people make confident choices to protect the ones they love, knowing they're safe online, secure in their homes, and prepared for emergencies. Today, family security is more complicated than ever. In a world that feels increasingly less secure, with more risks to consider, and so many products to compare, it's no wonder most families aren't prepared or don't know where to start. Batten aims to simplify the overwhelming amount of information and products on the market to be a one-stop shop to provide personalized recommendations for customers and their families, regardless of their situation or phase of life.
"We're helping people find customizable tools to protect their identity online, guard their home, and secure their most valuable heirlooms from natural and environmental disasters – and that's just the start," said Patrick Robinson, Batten CEO & Co-Founder. "We built Batten to be your one-stop shop to find security and protection solutions that fit within your lifestyle and budget."
Batten's expert team, which includes home and cyber security industry veterans and a retired Navy Seal Command Master Chief, has reviewed and evaluated hundreds of products to develop a curated marketplace with best-in-class products to accommodate every budget. To arrive at personalized recommendations, a customer would simply visit battensafe.com and take a free 30-second quiz. The recommendations engine then recommends products based on each customer's unique needs and circumstances. Batten offers product recommendations for cybersecurity (such as password managers and VPNs), home security (such as video doorbells and alarm systems), and emergency preparedness (such as survival kits and food/water supply tools).
"We call it three-dimensional security," said Robinson. "We think cyber, home, and emergency preparation aren't three different categories, but rather three dimensions of a single universal need: what we simply call family security."
Visit battensafe.com to access family security personalized solutions to guide confident security choices with actionable recommendations that empower you to make your home stronger, and your family safer. With their curated marketplace and customized recommendations for family security products, they make it easy to prepare today for peace of mind tomorrow.
Learn more about Batten and their
investment opportunity

in our next Launch with Localvest Event on

June 29th at 12 PM EST.