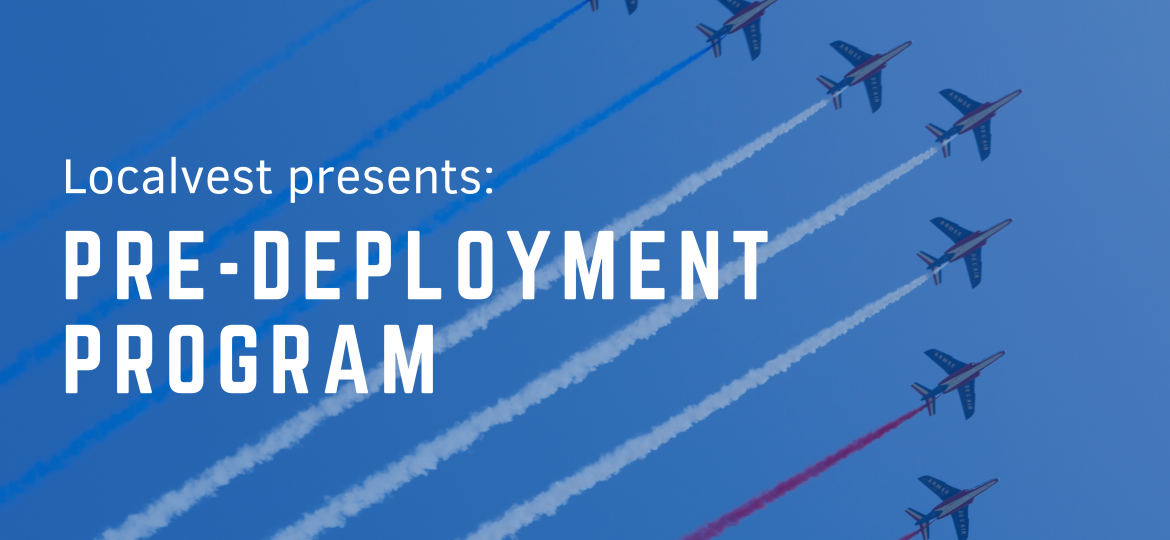 Localvest Launches the Pre-Deployment Program
Are you looking to raise capital but are unclear about where to begin? It's time to get your questions answered by people you can trust! 
We're excited to announce the launch of Localvest's Pre-Deployment Program, a new initiative designed to teach you everything you need to know about raising capital while providing you with access to a members-only community of veterans and other supporters who are committed to helping you grow and succeed. 
Meet our Pre-Deployment Program Manager, Jake Dulle! Jake is a U.S. Navy veteran who is passionate about helping fellow military veterans get the capital they need to fund their projects and ideas, including startups, real estate projects, existing businesses, and everything in between. 
Keep reading to learn more from Jake about what you can expect from Localvest's Pre-Deployment Program.
Why is Localvest launching the Pre-Deployment Program?
Military veteran founders and entrepreneurs have great companies and awesome business ideas, but many feel they are not ready to raise capital due to a lack of knowledge or comfort with regard to getting started. A key part of Localvest's mission is to create a community of veterans investing in other veterans so we decided to create the Pre-Deployment Program. It's a community where veterans help veterans learn everything they need to know about how to raise capital. It's a safe environment where you can ask questions before your deal goes live.
Who is the Pre-Deployment Program for?
Our Pre-Deployment Program is for any veteran-owned business that needs coaching and education on how to raise capital the right way. It's for first-time issuers who are ready to move beyond friends and family and begin their first major raise. It's also for experienced military veteran entrepreneurs who want to learn more about raising capital, plug into a community of experts, and offer support to other veterans along the way.
Why should I join the Pre-Deployment Program?
Finding a group of trusted individuals who can answer your questions and support you as you get ready to raise capital is tough. That's where the Pre-Deployment Program comes in. On active duty we trained, we completed exercises, and we did all we could to challenge ourselves before we deployed on a mission. Localvest's Pre-Deployment Program does the same thing for veterans on a mission to raise capital. It's a community where you can learn from those who have gone before you and gain access to the network and resources you need to take your company to the next level.
What are the benefits of the Pre-Deployment Program?
In addition to top-notch education from industry experts and unlimited access to a supportive community of veterans, the Pre-Deployment Program offers:
Monthly webinars including access to a video library

Issuer-focused content tailored to the needs of our members

Office hours with experienced veteran investors and funds

A review of your pitch deck with seasoned veteran investors

Access to the Localvest platform including training on how to use key features
And that's just a start! Localvest will continue adding more benefits to the Pre-Deployment Program as we get to know the needs and goals of the members of our community. Our members will shape what the program becomes. The Pre-Deployment Program is not an incubator or an accelerator. It's a community of veterans investing in other veterans. Hop out whenever you want to move on and stay in for as long as you need to get ready for your capital raise. We can't wait to welcome you!
Before you meet

with an investor, shape your pitch according to who you are pitching to, and prepare to ask investors the following questions:
How do you evaluate an investment?

What investments have you made that went well/badly?

What does your ideal investment look like?

Why are you interested in making an investment in my business?

Do you have any questions that I haven't answered already?
Asking these questions demonstrates that you care about making your deal a good investment and will help lead investors to a decision point. After you meet with potential investors, keep them updated on the progress of your deal. Updates should be brief and quantitative. Present an ask if you have one and give investors the time and space they need to decide if they want to invest. Remember, a great deal will always attract money and referrals. If your deal isn't gaining traction in your investor network, don't be afraid to rework your pitch or tweak your deal.
Do you want to learn more?
Join our Pre-Deployment Webinar on Wednesday, July 13th!

If you want to grow your company and learn how to raise capital successfully, this event is for you! Join us as Localvest's Pre-Deployment Program Manager, Jake Dulle, hosts our special guest, Scott Chesson, a U.S. Navy veteran and the Founder of CFO4Vets.
And don't forget to sign up for Localvest's free Pre-Deployment Newsletter!